OUR BEST SELLER (ALL ITEMS)
Three reasons for being part of Uluwatu Tiger.
[The aim was to create a sense of cohesiveness] The secret hidden in the gold emblem of Uluwatu Tiger, which has sold over 200,000 units]

[Actually, I don't need a logo] A simple design without unnecessary decorations is easier to use and will appeal to everyone. Since our founding, we have faced a wall in bag design more than once or twice.

However, [it is more difficult than simple] Uluwatu Tiger's tote bag creates a sense of cohesiveness in fashion, which can only be created by bold ideas and delicate adjustments that incorporate decoration into the design.
As a result of thinking about the theme of ``adjusting the appearance of adults,'' we created the only bag that has an emblem on it, yet is simple and attractive, and is chosen by top stylists for its cohesive look.
Together, we want to affirm the future of those who dare to choose a difficult path. With this in mind, we are particular about making bags with emblems, which are also lucky charms, that are carefully hand-polished by Japanese craftsmen one by one.
Uluwatu Tiger is a Japanese bag brand that combines inspiration from Uluwatu, Indonesia, where it is said that God resides in the details, with the tiger, which has been said to bring good luck since ancient times.

>>
[Good bags differ greatly not only in design (appearance) but also in the manufacturing process and materials]

Every time a Japanese company easily comes out with a product that imitates the Uluwatu Tiger design, I have very mixed feelings as someone who has repeatedly fine-tuned the design in pursuit of ease of use.

It's very easy to make [a cheap, lightweight bag with a similar shape] in a Chinese factory if you completely ignore quality. However, attention to detail is not carried over to bags that only copy the appearance of what is selling well.

If a large amount of glue is used to sew unstable and cheap fabrics, the smell will be so strong that it can be considered poisonous. If you use a cheap, general-purpose lightweight core material, it will break quickly. I looked at the beautiful pictures and thought I could buy something luxurious at a low price, but when it arrived, it was just a cheap synthetic leather bag.

If you're not going to be happy with it anyway, there's no need to make it. This is a bag made by such a straightforward, extreme, and selfish company. At Uluwatu Tiger, it is not unusual for it to take half a year to make a single part.
After making adjustments over and over again and remaking them over and over again, we are finally able to deliver bags that are worthy of your trust.

>>
[Reasons for choosing premium leather instead of genuine leather]

Uluwatu Tiger consistently uses premium PU leather that has been specially processed to the grade used in premium car leather seats. *Excluding some products
I work with a fabric factory to make custom-made fabrics, but I still don't see people asking, ``Are you going to use this for bags?'' ] is asked every time we have a meeting. It is a high-quality fabric that costs from 150,000 yen for a sofa, and from 8 million yen for a luxury car.
The best bag maker with 50 years of experience in the industry gave me a strange look and told me that I didn't have to go that far. ]

Uluwatu Tiger is a company that selects premium PU leather from a variety of fabrics. In fact, French luxury brand Louis Vuitton's bags are one of the unusual companies that uses premium PVC leather, a close relative of premium PU leather, instead of genuine leather.
The answer to why we choose the classic genuine leather lies in the amount of time it takes to care for it. Premium PVC leather and premium PU leather tend to attract attention because of the difference in color development and overwhelming feel, but it is meaningful that they are maintenance-free and do not take up the owner's time.

>>
PLAY INSTAGRAM
[Instagram post introduction] @na____z28
UluWatu BCB M/F black x brown simple tote bag was worn very nicely with dark mocha coordination. The two-tone color of black and brown can make a pretty casual style look even more elegant, and @na____z28's fashion is exactly that. UluWatu BCB M/F matches any color of clothing for both men and women, creating a casual atmosphere for adults. It can be used for any occasion, from everyday wear to business casual.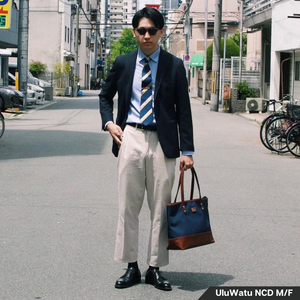 [Instagram post introduction] @bluegrk
The UluWatu NCD M/F navy x brown simple tote bag was worn casually and beautifully with a formal jacket style as its core. The combination of jacket style, luxurious leather shoes and sunglasses is perfect for a fashionable expert. @bluegrk's fashion style makes me nervous when I'm walking around town and want to stop and take a snapshot with her. (staff talk)
[Instagram post introduction] @__rn28__
The UluWatu AB M/F inlay chart tote bag was paired with a cute, girly look. Intrecciato, which means woven in Italian, has received overwhelming praise in the fashion industry for its ability to elevate the overall look of any occasion. It goes well with fashion based on gray and black for both men and women, and goes well with accessories and watches. It is reusable, so it is recommended for everyday use.
[Instagram post introduction] conom_iiii
UluWatu LB M/F was worn by conom_iiii for a monochrome stylish outing look. It's a wonderful coordination that will make you look back if you come across it on the street. UluWatu LB M/F uses Uluwatu Tiger's unique elephant design, and uses German-derived PREMIUM PU material to express a texture that cannot be achieved with cowhide. Uluwatu Tiger's UluWatu LB M/F, which matches the fashion of beautiful eyes, will make adult women look even more beautiful.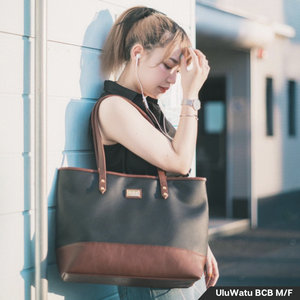 [Instagram post introduction] @kya_ne_n (photographed by @kya.ne.n)
I paired the UluWatu BCB M/F black and brown simple tote bag with a natural taste for a weekend style. UluWatu BCB M/F has a matte appearance and an original gold emblem that makes the styling look elegant. Even though it has a large capacity, it won't rub against your shoulders even when you carry it on your shoulder, and it has a unique feel that only a bag made of premium materials can provide, something you've never experienced with a regular bag.
[Instagram post introduction] @rukikun.17
The UluWatu SB M/F black-toned simple tote bag was worn very nicely. A black bag is a great way to accentuate a beautiful look, and @rukikun.17's fashion is a perfect example of this. UluWatu SB M/F matches any color of clothing for both men and women, creating an adult atmosphere. It can be used for everything from everyday wear to business casual wear, so it's also recommended for those who don't want to change things from one bag to another.